Staghorn Bollard(Twin Horn Dock Bollard)
Material: Cast Iron or Cast Steel
Type: Staghorn(or Twin Horn) Head Type
Installation Method: By Anchoring Bolts
Capacity: 10Ton to 200Ton
Staghorn Dock Bollard (Twin Horn Dock Bollard)

Staghorn bollard also called twin horn dock bollard or double horn bollard is a staghorn-shaped type dock mooring bollard. It is commonly used to guarantee the security of marine vessels by mooring ropes. The bollard is supplied with different anchor systems: anchor rods with end-plates and nut fixing for new concrete, anchor rods with epoxy grout and nut fixing for existing concrete and cast-in anchor systems with break-off bolts. It can handle higher line load angles than single bitt and kidney bollards. This feature may be of particular importance where very large changes in water level result in significant differences in inline angles. Ysmarines is a leading China manufacturer of staghorn bollard.

The staghorn dock bollard (or twin horn dock bollard) is also supplied with different base types, such as hexagon type base, round type base, square type base and semi-circle type base, which can be confirmed by the concrete of the dock, port or jetty design and application environment. The following corrosion protection systems are offered: premiered only, painted with primer and 2-component epoxy layer & topcoat, galvanized, galvanized and painted (duplex). YSmarines is a leading China manufacture for superior quality staghorn dock bollard.
Features Of Staghorn Dock Bollard

●Wide range of base shapes for choice;
●Beautiful appearance design;
●Various anchoring systems for choice;
●Staghorn (or twin horn) head design to allow higher rope angle and two rope lines work;
●A wide range of corrosion protection are offered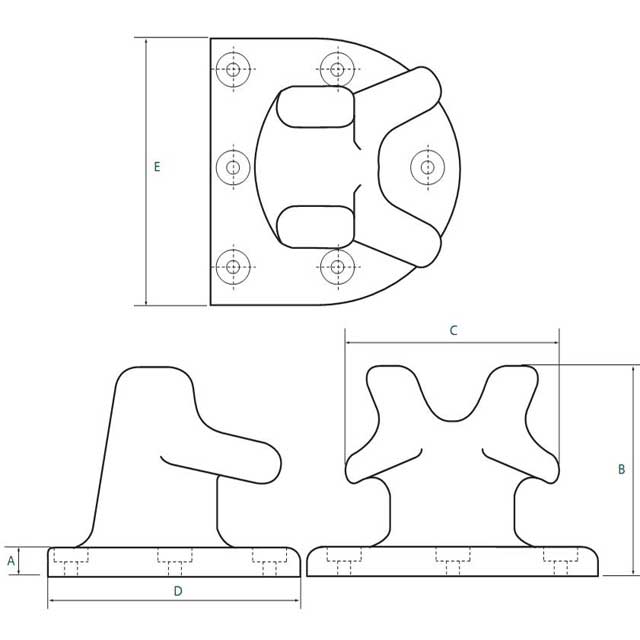 Model No.

Dimensions (mm)

Bolts

Capacity (T)

A

B

C

D

E

S01

41

291

348

330

381

M24*4

10

S02

45

320

394

362

419

M24*4

15

S03

49

349

430

381

442

M24*5

20

S04

55

392

483

429

497

M30*5

30

S05

59

419

516

457

530

M36*5

50

S06

71

489

627

556

645

M42*6

75

S07

81

559

717

635

737

M42*7

100

S08

90

615

788

699

810

M48*7

125

S09

98

671

860

762

884

M48*7

150

S10

102

699

896

794

921

M56*8

200
Applications Of Staghorn Bollard

Container & Bulk Terminals
Oil & Gas Terminals
GeneralCargo Terminals
Cruise Terminals, Ferry & RoRo Terminals
Navy
Other types of the port facility

FAQ About Staghorn Bollard

1. Can you supply OEM or ODM service?
A: Yes, we have a great research & development team. The staghorn dock bollard (or twin horn bollard) can be customized according to your request.

2. How to choose a dock bollard?
A: You can choose the dock bollard regarding the following parameters: shape, material quality, anchoring system, corrosion protection, safety factors and design methods.

3. Can you provide the relevant documentation and certificate?
A: Yes, we can provide you with the documentation and certificates you need, such as CO, Form E, Form F, Mill's certificates, CCS, BV, etc.

4. What is your term of delivery?
A: We accept EXW, FOB, CIF, DDU and DDP, etc. You can choose the one that is the most convenient for you.