JIS F 2026 Roller Fairlead(Universal Fairlead)
Material: Steel
Nominal Size: 140mm to 315mm
Roller No.: 4 & 5
Weight: 187KG to 2050KG
JIS F 2026 Roller Fairlead
The roller fairlead is manufactured strictly according to the Japanese Standard JIS F 2026-1980. It is also known as universal fairlead with horizontal rollers and vertical rollers. It is made of stainless steel. Its surface is polished and galvanized which has high corrosion-resistance. It is usually located on the deck end or in the bulwark. It can perfectly guide the direction of ropes and protect them. There are three types for the fairleads: Type A (4 rollers), Type BR (5 rollers) and Type BL (5 rollers and symmetrical to BR type). YSmarines can supply the JIS F 2026 fairlead according to customer's requirements with the certificate of CCS, ABS, BV, LR, NK, etc.
Features:
● Welded structure;
● Smooth and primer surface to protect the ropes and wire ropes;
● Seawater resistant bronze slide bearing with grease lubrication.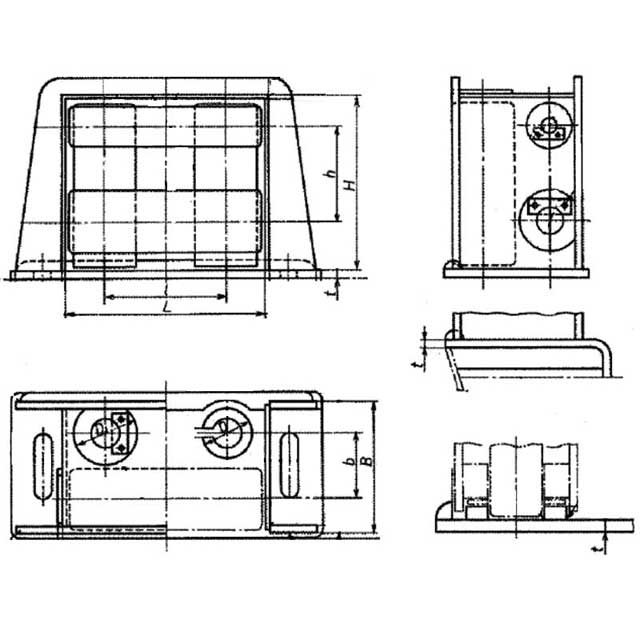 Nominal Size

Rope Dia.

Dimensions (mm)

Weight for 4-roller

Weight for 5-roller

(mm)

(mm)

B

b

D

D1

H

h

L

l

t

(kg)

(kg)

140

18

310

150

90

140

480

130

515

335

12

187

235

160

22.4

360

175

110

160

515

145

570

365

14

277

353

180

25

410

200

135

180

560

155

620

390

16

387

496

200

28

460

225

160

200

590

170

675

420

18

510

648

250

35.5

565

280

200

250

715

195

825

520

20

900

1176

315

42.5

670

330

240

300

870

220

980

620

22

1232

2050