JIS F 2014 Warping Roller Fairlead
Material: Grey iron ,Ductile iron , Carbon steel, Stainless steel
Nominal Size: 150mm to 450mm
Standard: JIS F 2014
JIS F 2014 Warping Roller
The warping roller, which is a type of roller fairlead, is manufactured according to the JIS F 2014 -1987 standard. It is also known as CB58-83 fairlead. It is used as a shipside roller fairlead and is to change the direction of the ropes. All surfaces of the fairlead, including welding, shall be free from any visible flaws or imperfections. The roller diameter is from100mm to 450mm, suitable for rope diameter from 40mm to 80mm. The warping roller has three types including type A (one roller), type B (two rollers as a group) and type C (3 rollers as a group). YSmarines provides JIS F 2014 warping roller with the certificate of BS, BV, GL, DNV, CCS and customized design for customer's specific requirements.
Features:
● Flexible bearing or axle;
● Smooth surface coated externally with an anti-corrosion protective finish;
● Anti-seawater material.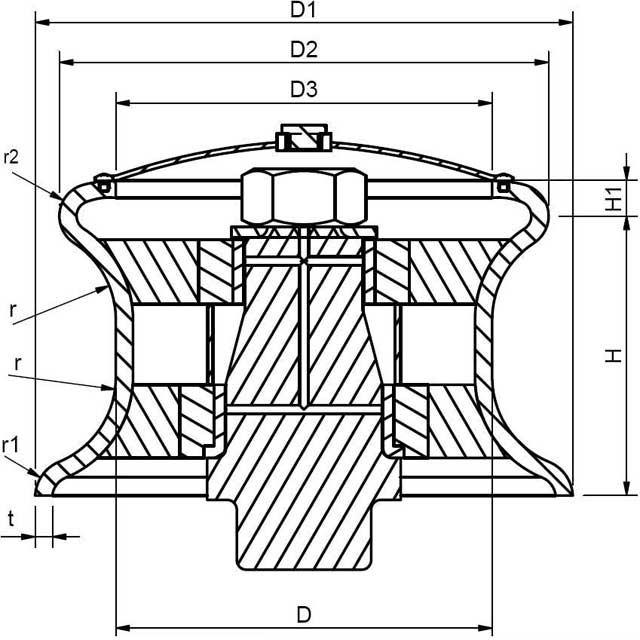 | | | | | | | | | | | |
| --- | --- | --- | --- | --- | --- | --- | --- | --- | --- | --- |
| Nominal Size | D | D1 | D2 | D3 | H | H1 | r | r1 | r2 | t |
| 150 | 150 | 240 | 220 | 140 | 150 | 20 | 45 | 20 | 17 | 10 |
| 200 | 200 | 310 | 280 | 190 | 185 | 24 | 55 | 25 | 21 | 10 |
| 250 | 250 | 380 | 340 | 250 | 220 | 29 | 65 | 28 | 25 | 10 |
| 300 | 300 | 440 | 400 | 300 | 240 | 30 | 75 | 32 | 28 | 12 |
| 350 | 350 | 500 | 455 | 350 | 260 | 35 | 85 | 36 | 30 | 16 |
| 400 | 400 | 560 | 520 | 410 | 280 | 36 | 95 | 40 | 32 | 19 |
| 450 | 450 | 620 | 580 | 450 | 292 | 46 | 90 | 45 | 45 | 19 |