ISO13776 Pedestal Roller Fairlead
Material: Steel
Nominal Size: 150mm to 500mm
SWL: 265kN to 1942kN
Weight: 55KG to 938KG
ISO13776 Pedestal Roller Fairlead
The pedestal fairlead is manufactured in accordance with the ISO 13776 standard. The actual SWL of the fairlead on board shall be determined by considering the under deck reinforcement and shall not be over the SWL indicated in this International Standard. Depending on the rollers on the top, the roller fairleads shall be classified as two types including the cylindrical pedestal and conical pedestal. Besides those, other options such as square or customized pedestals according to the requirement of clients are available at YSmarines, superior quality and the best prices promised.
Features:
● Flexible bearing or axle;
● Smooth surface coated externally with an anti-corrosion protective finish;
● Anti-seawater material;
● Customized weldable Pedestal.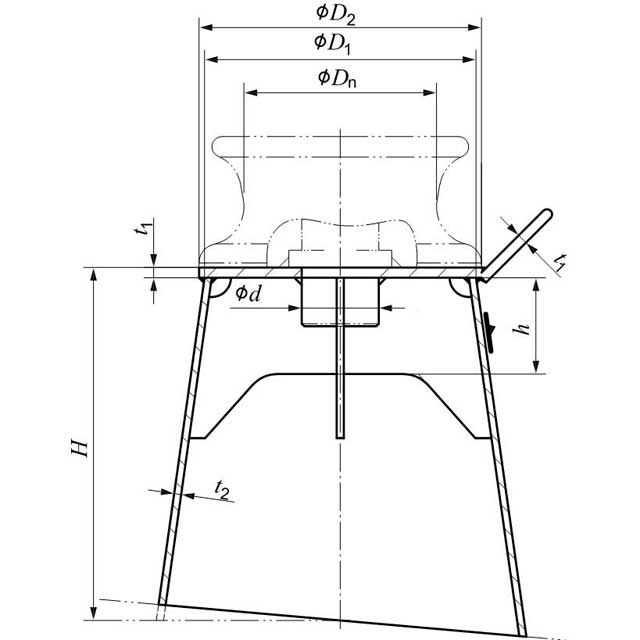 Nominal Size

Dimensions (mm)

SWL

Weight

Dn

D1

D2

d

h

t1

t2

θ=90o

θ=0o

H=500

H=1000

H=1500

(mm)

Type A&B

Type C

(kN)

(t)

(kN)

(t)

(kg)

150

220

230

71.5

81.5

200

16

10

265

27

186

19

55

115

198

200

288

300

93.5

102.5

200

20

12

441

45

314

32

86

169

278

250

357

370

113.5

119.5

200

22

12.5

579

59

412

42

113

210

335

300

417

430

128.5

130.5

225

24

13

726

74

510

52

145

256

395

350

472

490

145.5

152.5

225

26

17

1040

106

736

75

201

358

552

400

540

560

154.5

164.5

250

28

18

1246

127

883

90

255

436

657

450

600

620

167.5

179.5

250

30

20

1599

163

1128

115

314

530

791

500

655

680

178.5

195.5

250

32

22

1942

198

1373

140

383

636

938