ISO13742 Roller Fairlead Without Upper Roller
Material: Steel
Roller No.: 3, 4, 5
Nominal Size: 140mm to 400mm
SWL: 137kN to 1373kN
Weight: 101KG to 2551KG
ISO13742 Roller Fairlead without Upper Roller
The roller fairlead is made according to ISO 13742 standard without upper roller and it is a universal fairlead that consists of horizontal and vertical universal rollers to increase stiffness and fairlead strength, guiding mooring ropes from all directions, greatly reduce the abrasion of mooring ropes. The fairlead compact structure and reasonable openings are not only for ordinary vessels towing or mooring but also for navigation in the canal waterway ship are towed or moored. The certificate of BV, ABS, LRS, DNV, RS, IRS, etc is available for ISO13742 fairlead at YSmarines with the best price.
Features:
● Welded structure;
● Smooth and primer surface to protect the ropes and wire ropes;
● Seawater resistant bronze slide bearing with grease lubrication.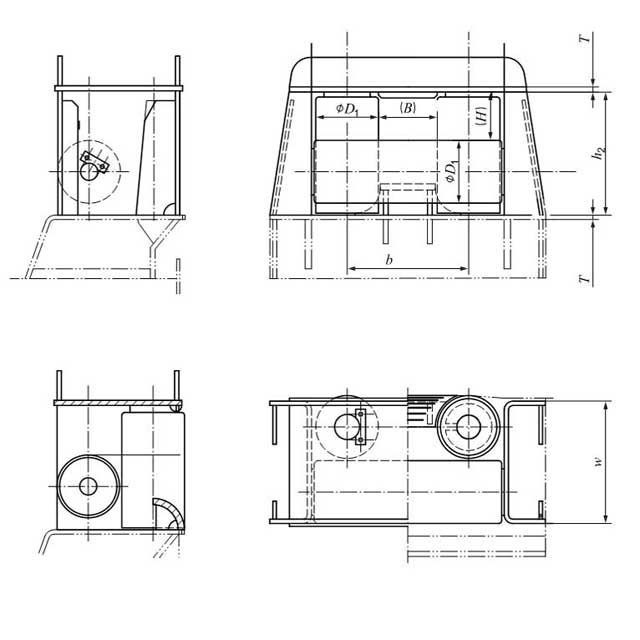 Nominal Size

Dimensions (mm)

SWL

Weight for 3R

Weight for 4R

Weight for 5R

(mm)

B*H

D1

h2

b

w

T

(kN)

(t)

(kg)

(kg)

(kg)

140

195*150

139.8

350

335

260

12

137

14

101

126

177

160

200*150

165.2

378

365

310

14

196

20

140

176

253

180

200*150

190.7

400

391

360

16

245

25

181

226

333

200

200*150

216.3

428

416

410

18

314

32

246

305

442

250

250*200

267.4

530

517

520

22

510

52

585

731

1015

300A

300*250

318.5

630

618

620

24

687

70

780

945

1348

300B

300*250

318.5

630

618

620

26

736

75

852

1029

1453

400A

350*250

406.4

720

756

795

26

981

100

1245

1506

2146

400B

350*250

406.4

720

756

795

28

1256

128

1353

1648

2382

400C

350*250

406.4

720

756

795

30

1373

140

1464

1780

2551