ISO13733 Roller Fairlead with Upper Roller
Material: Steel
Roller No.: 4, 5, 7
Nominal Size: 140mm to 400mm
SWL: 137kN to 1373kN
Weight: 159KG to 3591KG
ISO13733 Roller Fairlead with Upper Roller
The roller fairlead is manufactured according to the ISO 13733 standard with an upper roller. It is a type of ship's mooring fitting installed on board to lead the mooring rope from the ship's inboard to outboard. The fairlead is also known as universal fairlead because it can lead the mooring ropes from different directions. All surfaces shall be free from any visible flaws or imperfections. It is coated externally with an anti-corrosion protective finish. The rotating parts are provided with greasing. Depending on the construction, the roller fairleads shall be classified as four types as below, which includes type 4R, type 5RL (with additional guide roller on the left side), type 5RR (with additional guide roller on the right side) and type 7R.
Features:
● Welded structure;
● Smooth and primer surface to protect the ropes and wire ropes;
● Seawater resistant bronze slide bearing with grease lubrication.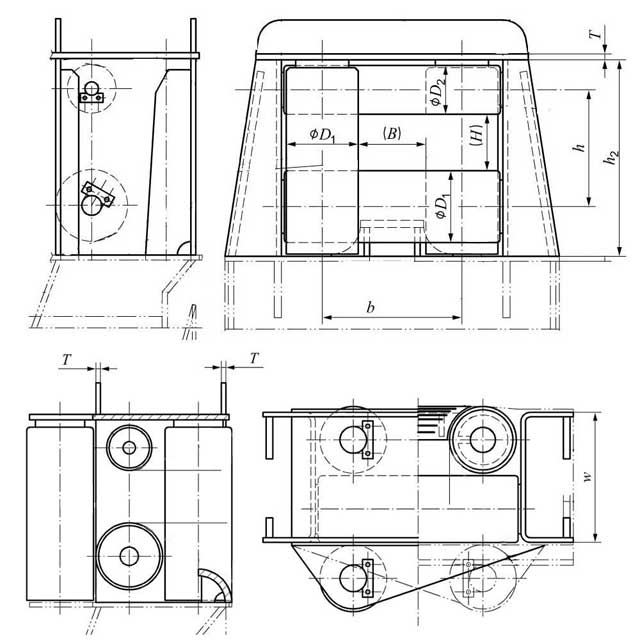 Nominal Size

Dimensions (mm)

SWL

Weight for 4R

Weight for 5R

Weight for 7R

(mm)

B*H

D1

D2

h

h2

b

w

T

(kN)

(t)

(kg)

(kg)

(kg)

140

195*150

139.8

114.3

277

480

335

260

12

137

14

159

194

256

160

200*150

165.2

114.3

290

515

365

310

14

196

20

218

267

357

180

200*150

190.7

139.8

315

560

391

360

16

245

25

279

343

481

200

200*150

216.3

139.8

328

590

416

410

18

314

32

373

455

629

250

250*200

267.4

165.2

416

715

517

520

22

510

52

730

877

1307

300A

300*250

318.5

216.3

517

870

618

620

24

687

70

1173

1411

2013

300B

300*250

318.5

216.3

517

870

618

620

26

736

75

1267

1521

2154

400A

350*250

406.4

216.3

561

960

756

795

26

981

100

1710

2032

2924

400B

350*250

406.4

216.3

561

960

756

795

28

1256

128

1958

2332

3344

400C

350*250

406.4

216.3

561

960

756

795

30

1373

140

2114

2516

3591