Horizontal Guide Deck Sheave Fairlead
Material: Steel
Nominal Size: 400mm to 900mm
SWL: 234kN to 1414kN
Weight: 176KG to 1300K
Horizontal Guide Deck Sheave
The horizontal sheave is a type of mooring fittings to guide the mooring rope horizontally on the deck. It is also named the horizontal deck sheave fairlead. It is built to withstand the breaking strength of indicated rope at 90-degree sheave wrap on the sheave. The warping angle of the sheave can be 90-180 degrees. It is made from cast steel with a hardened rope groove for longer life. It is on a weld down the mounting base with an epoxy primer coating. YSmarines provides customized designs to meet your requirements for horizontal guide sheave, best price guaranteed.
Features:
● Flexible sheaves;
● Smooth surface coated externally with an anti-corrosion protective finish;
● Anti-seawater material;
● Customized weldable foundation.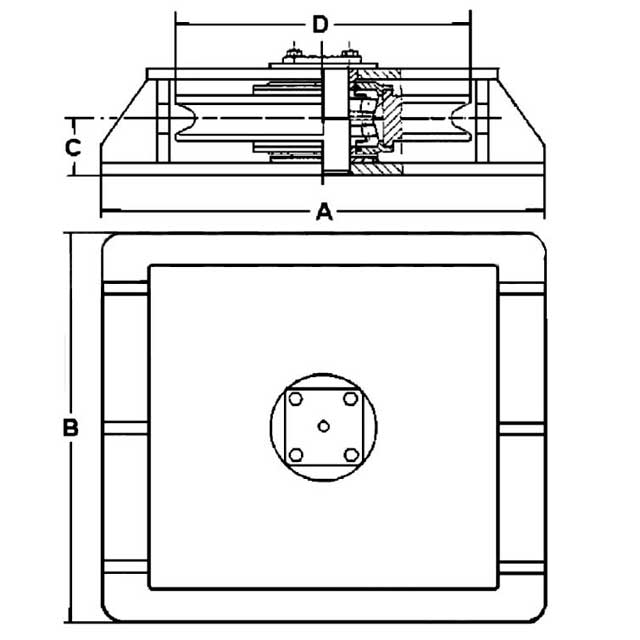 Nominal Size

Dimensions (mm)

Wire Rope Dia.

SWL

Weight

(mm)

A

B

C

D

(mm)

(kN)

(kg)

400

580

580

92

406

25

234

176

500

690

690

92

508

32

355

270

600

820

800

120

610

38

500

400

650

845

845

127

660

45

671

550

750

1143

1143

165

762

52

935

890

900

1130

1130

191

914

64

1414

1300