DIN 81906 Warping Roller Fairlead
Material:Cast Steel
Nominal Size: 160mm to 560mm
SWL: 10kN to 320kN
Weight: 12KG to 580KG
DIN 81906 Warping Roller Fairlead
The warping roller is made according to the standard of DIN 81906-1999. It must be identified clearly and permanently with the nominal size and manufacture's symbol. It is made from cast iron or cast steel material and the materials must conform to the DIN standard's requirement, which increases the durability, good wear and corrosion resistance to ensure a long service time. Its maximum towing load is from 10KN to 320KN. It is used to guide rope or cable. YSmarines is a professional supplier for marine equipment and fittings and can provide excellent quality DIN 81906 fairlead, the most competitive price guaranteed.
Features:
● Flexible bearing or axle;
● Smooth surface coated externally with an anti-corrosion protective finish;
● Anti-seawater material.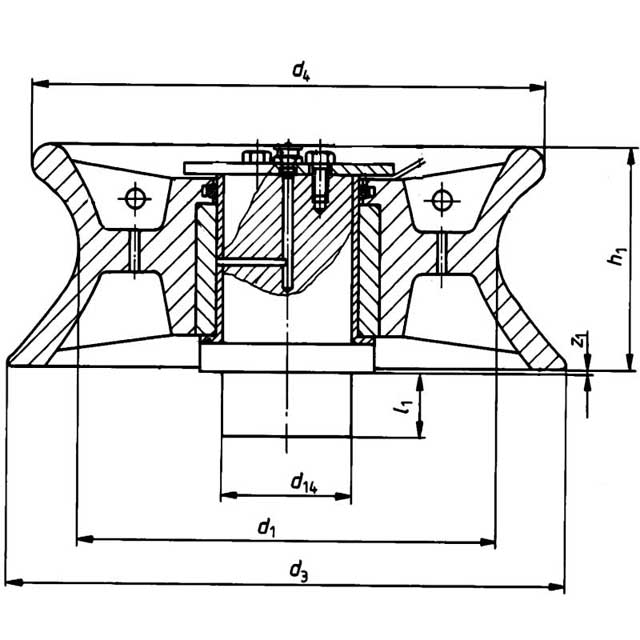 Nominal Size

Dimensions (mm)

SWL

Weight

d1

d3

d4

d14

h1

l1

r1

z1

(kN)

(kg)

1

160

210

195

60

80

50

25

1.5

10

12

2

200

265

245

70

102

50

32

2.5

20

18

3

250

330

300

85

126

50

42

2.5

32

33

5

320

420

390

106

160

50

55

2.5

50

68

8

400

530

490

125

208

60

73

2.5

80

136

12

450

610

560

160

256

85

95

2.5

125

225

20

500

640

620

190

278

100

111

4.5

200

336

32

560

780

740

230

348

150

125

4.5

320

580