CB/T 3062 Roller Fairlead
Material: Steel
Roller No.: 3, 4, 5
Nominal Size: 100mm to 320mm
SWL: 54kN to 533kN
Weight: 112KG to 2877KG
CB/T 3062 Roller Fairlead
The roller fairlead is made according to the standard CB/T3062-2011 and also is called the roller head fairlead or universal fairlead. It is designed for mounting free on deck, and welding into the bulwark with a rope turn of 90°. The rollers and axles are interchangeable. The surface of the rollers does not have any defects which affect its performance and intensity such as cracks, blisters. The fairleads are designed with 3 rollers, 4 rollers and 5 rollers easily adapted to meet clients' requirements, which are A-type (3 rollers), B type (4 rollers) and C type (5 rollers). All the CB/T3062 fairlead provided by YSmarines obtain the certificate of CCS, ABS, BV, LR, etc.
Features:
● Welded structure;
● Smooth and primer surface to protect the ropes and wire ropes;
● Seawater resistant bronze slide bearing with grease lubrication.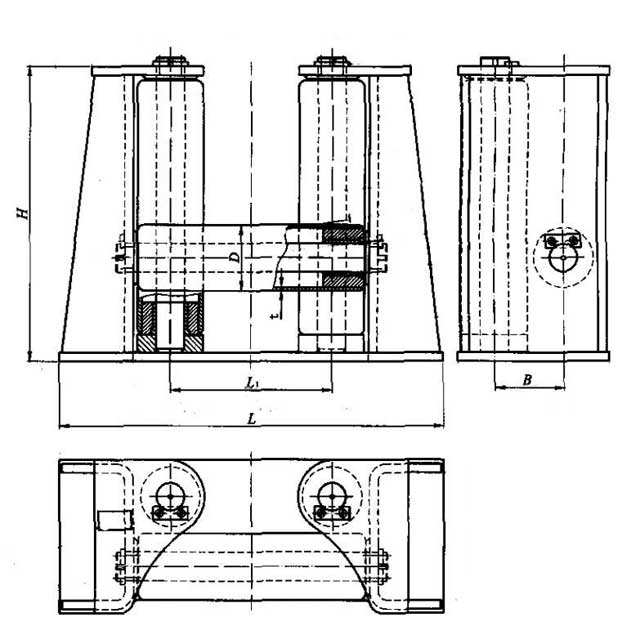 Nominal Size

Wire Rope Dia.

Rope Dia.

Dimensions(mm)

SWL

Weight for 3-roller

Weight for 4-roller

Weight for 5-roller

(mm)

(mm)

(mm)

B

D

H

L

L1

t

(kN)

(kg)

(kg)

(kg)

100

14

36

194

102

508

644

300

10

54

112

112

139

120

16

40

232

128

552

728

320

12

70

169

169

209

140

18

45

250

138

606

776

330

14

89

227

227

284

150

20

70

288

158

670

880

370

16

110

328

328

410

160

22

80

308

168

710

940

400

18

133

388

388

541

180

26

85

345

190

770

1030

420

20

186

575

620

723

200

28

95

385

210

820

1136

460

22

216

722

798

931

230

32

100

445

240

910

1256

490

25

282

966

1067

1253

260

36

500

270

1000

1430

560

28

357

1422

1585

1852

320

44

620

330

1130

1690

640

30

533

2122

2441

2877