A39 Swivel Head Anchor Fairlead
Material: Steel
Wire Rope Dia.: 25mm to 64mm
Sheave Dia.: 254mm to 762mm
Weight: 367KG to 4370KG
Key Words: A39 Fairlead, Swivel Fairlead, Swivel Head Fairlead
A39 Swivel Head Anchor Fairlead
The swivel head fairlead is the heavy-duty balanced anchor fairlead and is installed on the deck of ships. It is suitable for use in most deck-mounted or flange-mounted marine-duty applications, which can be manufactured with welded foundation or bolted foundation. At the beginning and end of the fairlead, there are the same size front panel and back panel. The surface of the opening is smooth to avoid the abrasion of anchor chains. With the compact structure and reasonable opening, the swivel fairlead is applicable to not only ordinary ship towing or mooring but also to ships sailing in the canal waterway. YSmarines provides high-quality swivel head fairleads with reliable prices and fast delivery.
Features:
● designed for breaking strength of wire with 90° wrap on sheave and +/- 90° rotation of swivel head;
● sealed lubricated tapered roller bearings;
● hardened rope grooves for longer life.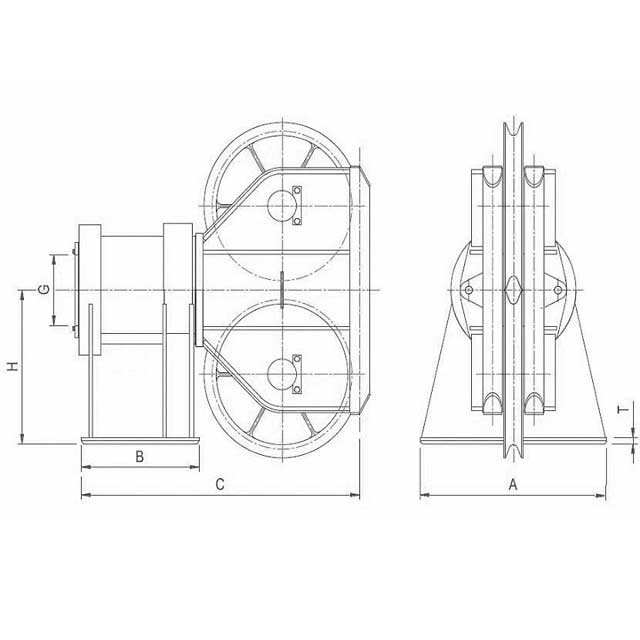 Wire Rope Dia.

Sheave Dia.

Dimensions (mm)

Weight

(mm)

(mm)

A

B

C

T

G

H

(kg)

25

254

559

356

651

20

90

292

367

32

305

711

508

862

30

100

343

612

38

406

780

782

1231

30

150

489

720

44

508

1067

914

1503

50

190

546

1700

50

610

1219

1067

1775

50

220

648

2108

64

762

1370

1550

2400

50

300

800

4370