YS011 Type Passenger Seat
A fixed backrest or adjustable backrest angle is according to requirements.
The size of the seats could be customized.
The material of seating adopts fire-proof leather, PU/PVC leather, or fabric according to your requirements.
The anti-corrosion aluminum structure is durable.
Upholstery can be fabric or synthetic leather, or leather, upholstery material is approved flame retardant testing.
Luxury and comfortable ferry chairs for business class.
Armrest could be flat open , curved open, flat closed arm rest and curved closed arm rest, folding arm rest.
Track or track bolt for choice.
YS011 Type Passenger Seat
The ship chair is widely used for the passenger ship, yacht, and other passenger vessels. Its surface is made from PU, leather, or fabric according to the requirements of customers. The backrest and cushion are made of high-density polyester one-time molding cold foam high rebound fire foam. Seat beam, seat foot, and armrest adopt aluminum alloy 6063. The chair is manufactured with superior quality and high endurance materials that will withstand the particularities of the seawater environment. YSmarines is a professional manufacturer for ship passenger chairs with protective rubber feet and comfortable sitting.
Specifications:
| | | | |
| --- | --- | --- | --- |
| No. | Spec. | Width(mm) | Weight(KG) |
| 1 | Single | 590 | 13.2 |
| 2 | Double | 1230 | 22.4 |
| 3 | Triple | 1670 | 31.6 |
| 4 | Quadruple | 2210 | 39.8 |
Basic configuration:
Seat cushion and the back of a chair(including magazine bag)
United and decorative head
Armrest
Chair foot
An adornment to install rails
Railhead
Rail decoration layering
Life-saving pocket
Installation accessories
Optional configuration:
Meal Trays
Fixed back/Reclining back
Headrest
Footrests
Life jacket bag
Seat belt
Document pocket
Antimacassar
Hand grip
USB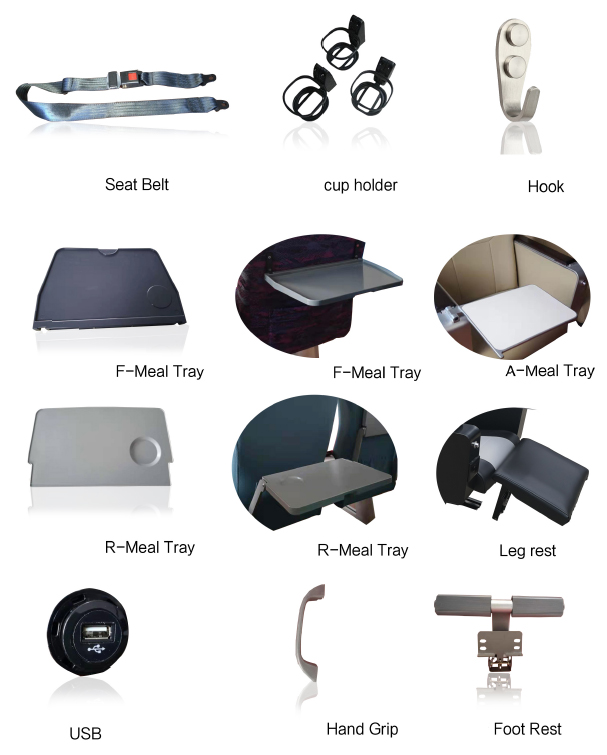 Material:
A. Chair surface is leather or fabric flame retardant;
B. Back for high-density polyester one-time forming high cold foam spring backfire sponge;
C. For high-density polyester one-time forming high cold foam cushion spring backfire sponge;
D.Seat beams, chair foot, armrest for high strength aluminum alloy 6063 oxides;
E.Rail for high strength aluminum alloy 6061 oxides;
F.Adornment to beams and railhead for PVC plastic resin materials;
G.Rail decoration layering for environmental protection rubber material;