TR-002 Type Captains Chair
The seat cover is leather and it has an aluminium frame. Lifting column with Aluminum alloy and stainless steel synthesis;
Adjustable backrest and headrest;
Seats can be moved back and forth;
Folding / angle-adjustable comfortable seat armrest;
Seat can rotated 360 degrees, multi-point positioning;
TR-002 Type Captains Chair
The captains' chair is made of leather or PU leather according to the customer's choice. It is a fixed type marine pilot chair with aluminum alloy column and pneumatic lifting. The seat tilting, slide, slide rail positioning device, adopt steel structure, the appearance of the salt spray test anti-rust treatment. The overall strength of the pilot chair to meet "International HSC norms" requirements, loading of about 260KG. YSmarines which is a professional manufacturer with design, production, sale, and after-sale service together, can provide captains chair for sale, the CCS or MED available, cheap price and superior quality promised.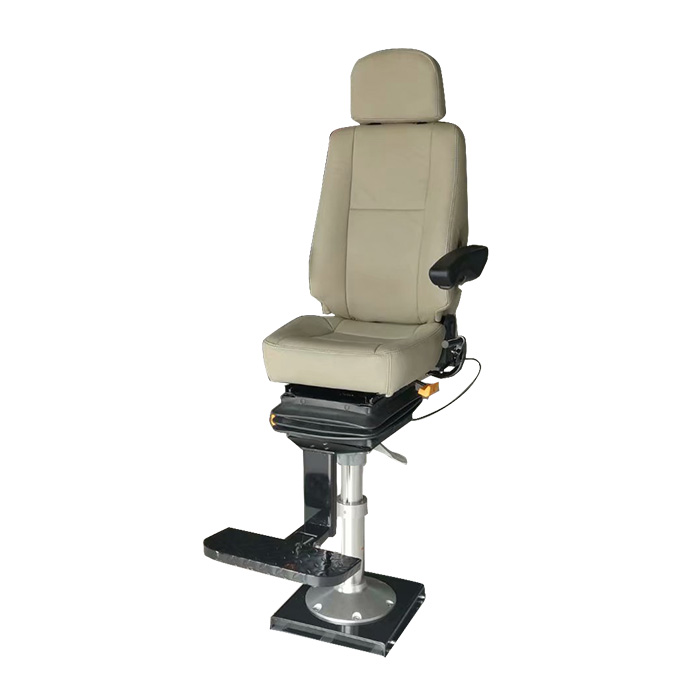 Characteristics Of TR-002 Type Captains Chair
1.Ergonomic design;
2.Adjustable backrest and headrest;
3. The seat height may be angle adjusted;
4. Seats can be moved back and forth;
5.Folding / angle-adjustable comfortable seat armrest;
6. The seat can rotate 360 degrees, multi-point positioning;
7.Foot pedal height-adjustable / folding;
8. The column can be vertically lifting;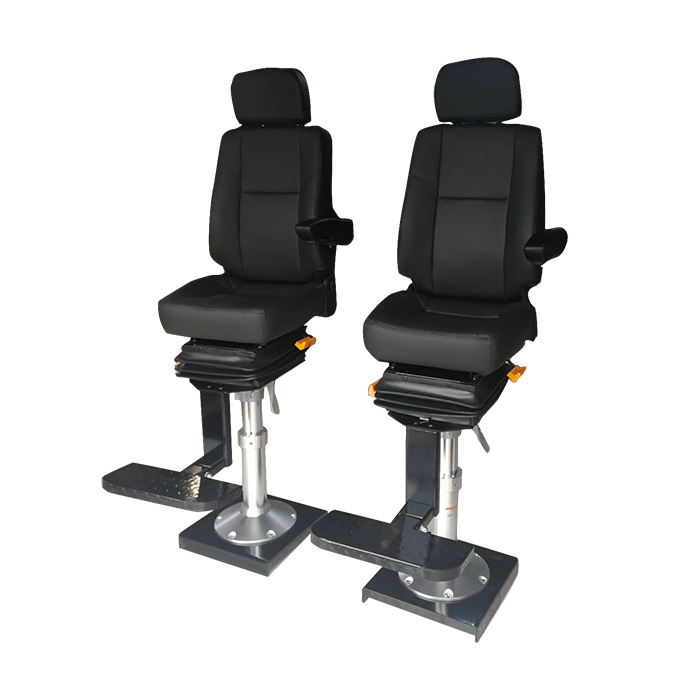 Materials Of Captains Chair
1. Lifting column with steel、stainless steel synthesis;
2. The seat lifting and tilting, move back and forth, back angle adjusting is used in steel structure;
3. The seat back and the seat cushion adopts the steel inner core and PU cold foam-forming disposable sponge synthesis, outsourcing leather or cloth;
4. Pedal steel plate inner core and environmentally-friendly rubber synthetic;
5. Pneumatic lifting core components pneumatic bar the use of German imports of Stabilus;
6. The chair surface is made of black high-quality PU imitation leather, which can be customized into leather or cloth according to the requirements;
7. Chair shape and color can be customized according to customer requirements;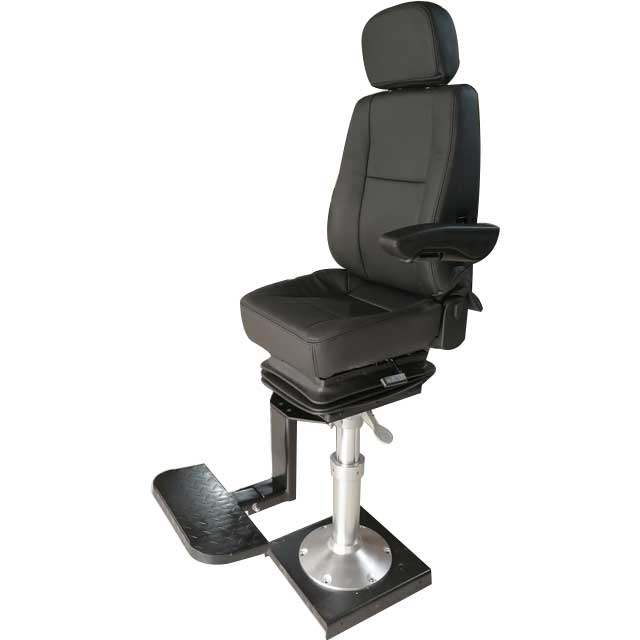 Functions Of TR-002 Type Captain Seats
1. The upper part of the seat can be moved back and forth of 120mm, height adjustment 60mm, seat inclination angle range of ±12°;
2.Seat backrest with adjustable angle of 85°-150°, the headrest adjusted up and down 50mm, handrest multi-point positioning control;
3.The seat of pneumatic lifting regulating range 0-150mm;
4. The seat can rotate 360°and locked 4-point positioning control;
5. Seat pedal can rotate 90° and regression, upper and lower position adjusting range of 0-50mm;
6. The seat can bear more than 150FT.LB torsion reached AD grade standard.
Technical Parameters Of TR-001 Type Captain Seats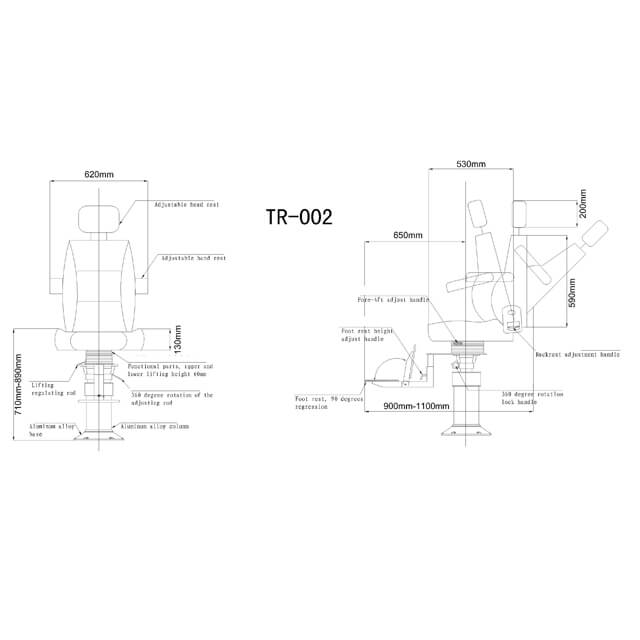 Packaging Of YSmarines Captain Seats
1. Generally, we pack our goods in neutral brown cartons or wooden cases, The inside of the package is covered with multiple layers of bubble wrap, At the bottom of the package, it is fixed by a bracket. On the outside of the box, the shipping mark will be marked to facilitate the customer to receive the goods.
2. We can also customize the packaging according to the customer's requirements.
Applications Of Captains Chair
Recommended Transportation Selections Of Captains Chair
By Express

By Air Transportation

By Sea Transportation

Suitable for sample order or <50kg goods

Fast 3~10 days

High shipping cost

Door to door service

Suitable for >50kg goods

Fast 3~7days

Lower than the express cost

Airport to airport service

Professional broker needed

Suitable for >300kg goods

Fast 7~45days

Lowest cost

Port to port service

Professional broker needed