Triangle Type Towing Chock
Material: Cast Steel ZG230-450
Nominal Size: 348*388mm to 430*580mm
Weight: 540KG to 780KG
Finishing: the mooring chocks shall be coated externally with an anti-corrosion protective finish.
Installation site: on the deck/bulwark
Triangle Type Towing Chock
The triangle type towing chocks are the commonest special shape marine towing chocks. The triangle towing chock can also be installed on deck with towing bitts with the foundation, but normally the chocks are installed on the bulwark because of its high SWL. The towing chocks can also be the mooring chock, which is used as the mooring fittings if there are some needs. The material is ZG230-450 in Chinese standard, and the yield strength should be not less than that.  The surface of the mooring chocks is fine polished and well painted without any bur or defect in visual. The inside of the chock can also be covered by a 3mm or 5mm SS316L plate to protect the chock and mooring ropes both. They are widely used for small boats and different vessels, such as container vessels, tankers, bulk carriers, etc. The customized sizes design for triangle mooring chock is available at YSmarines marine and offshore equipment.
Features Of Triangle Type Towing Chock
High SWL for mooring and towing purposes both.
Wide application scope or usage.
Smooth surface treatment for better protection of the rope lines.
Customized service supported.
Technical Parameters Of Triangle Type Towing Chock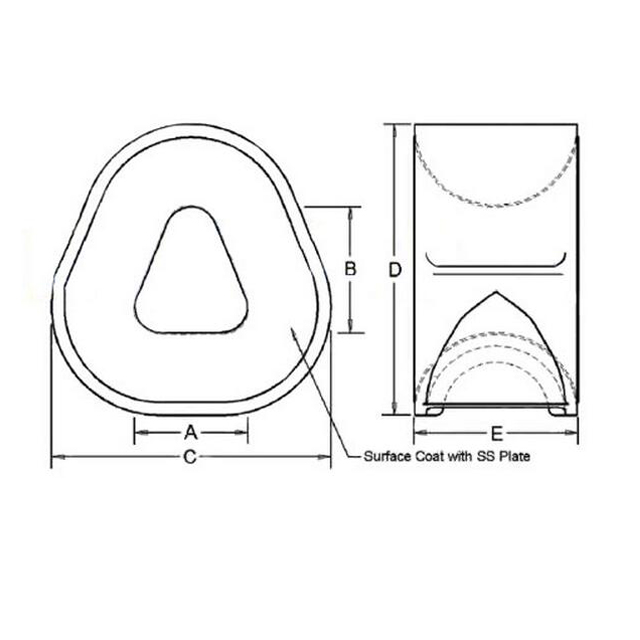 NS2590 Mooring Chock

Nominal Size

(mm)




SWL

Dimensions(mm)

Weight
(kg)




(kN)

B1

H1

L1

W1

W2

300*250

445

348

610

660

300

250

110

400*250

625

348

610

760

400

250

175
Workshop Of Triangle Towing Chock
Applications Of Triangle Chock
Small boats;
Sea-going vessels;
Tugboats;
Barges:
Carriers.